Aloe Vera farming is a process requiring care, dedication and patience to obtain products of a maximum guaranteed quality.
---
The aloe vera plant is very resistant and doesn't require as much care as other plant types like vegetables and fruits do but our farm is a professional farm destined to the creation of natural products that are 100% made of aloe vera and our main aim is to prioritise quality over quantity, and as one might expect, taking proper care of the aloe vera plantation is fundamental to achieve this. In Ibizaloe we only use the transparent gel from the inside of the plant. In order to extract the gel, we peel the plant, removing the green skin and wash the resulting transparent gel to get rid of any aloin residues.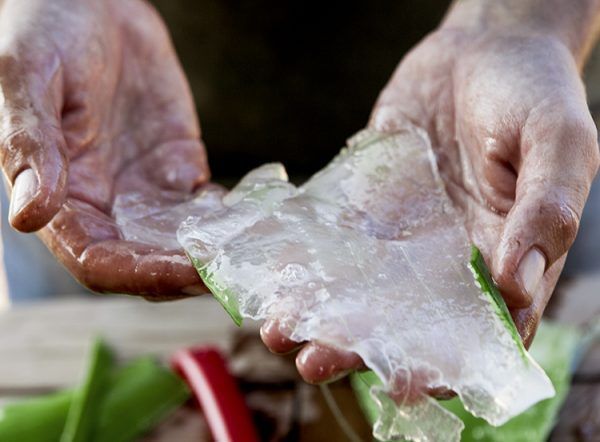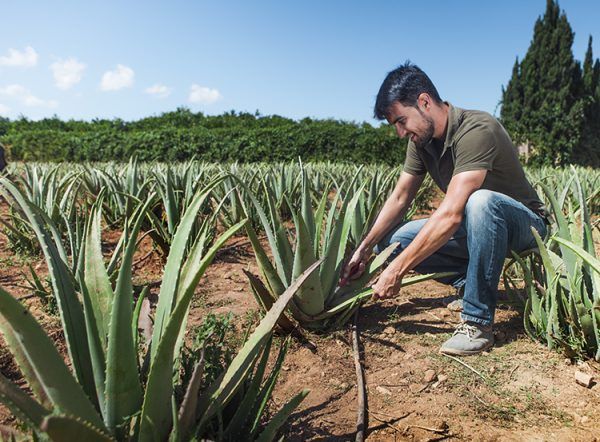 QUICK FACTS ABOUT OUR PLANTATION
We grow our aloe vera 100% organically, sustainably and environmentally friendly. Our plantation complies with all applicable standards and regulations, is certified by the CBPAE (Balearic Council of Organic Agricultural Production) and complies with the European Regulation (EC) 834/2007 on organic production and labelling of organic products. We guarantee the safety of all the products we offer, certify the origin of all ingredients used and test their properties duly.
Aloe vera, special care to obtain a unique product: We use the best farming techniques and processes to ensure the highest quality of our aloe vera. The loving care and patience we dedicate to the growing of our aloe vera gives us reason to be very proud of the final product we obtain.
ALOE VERA GROWN IN IBIZA
There are around 400 different species of aloe plants. However, we only use one of them to produce our products and extract the pure aloe vera juice and this is the Aloe Barbadensis Miller, also known as Aloe Vera or the Barbados Aloe. This is the most commonly grown type on the Balearic Islands and in particular on Ibiza.
---
Our way of farming has meant a real success for our farm on Ibiza. This is mainly possible because of the island's ideal conditions to grow high quality Aloe Vera thanks to its excellent climate throughout the year (the plant needs plenty of sunlight and a warm atmosphere) and the quality of the land.
We would also like to emphasise that our aloe vera farm has been built on the premise to offer unique and natural products that are based on pure Aloe Vera juice and…
DO NOT contain parabens.
DO NOT contain silicones.
NO contain Polyethylene glycol and/or any of its derivatives (labelled with the abbreviation PEG or the suffix "eth", e.g. ceteareth or the famous sodium laureth sulfate).
… As being 100% natural, are fully biodegradable and therefore neither their production nor utilization will harm the environment.