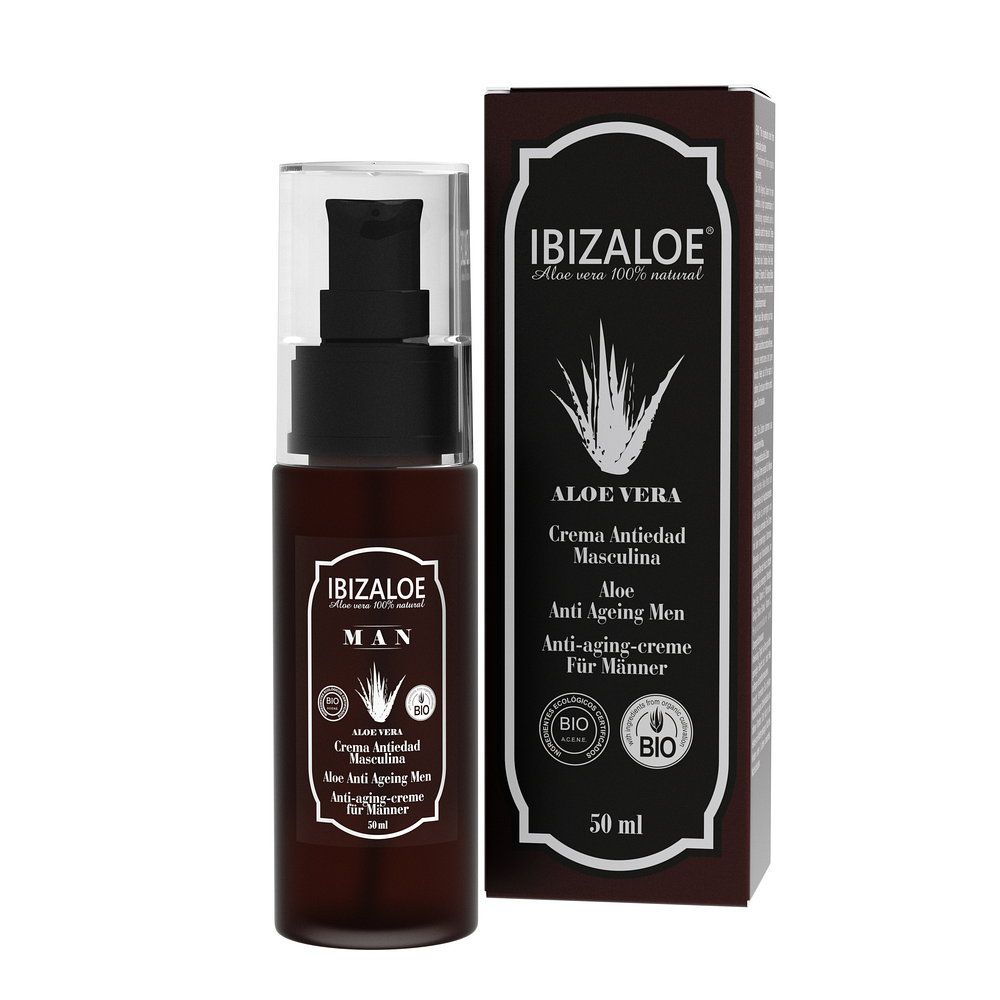 ALOE VERA ANTI AGEING MEN 50ml
39,95€
Contains moisturising, anti-wrinkle, regenerating, antioxidant and revitalizing active ingredients that offer total care for your skin. Contains Aloe Vera, Caffeine, Vitamin E, Rosehip-Oil, Ginkgo Biloba Extract, Vitamin C, Hyaluronic Acid and Orange Blossom Water. Recommended for sensitive skin.
Email to a friend
Description
Our Anti Ageing Cream for men contains a high concentration of revitalising ingredients and is especially suited for male skin. These natural ingredients help to regenerate the facial skin. Contains Aloe Vera, Caffeine, Vitamin E, Rosehip Oil, Ginkgo Biloba Extract, Vitamin C, Hyaluronic acid and Orange blossom water.
How to use:
After washing your face, massage lightly into your skin.
Do not use in children under 3 years of age.
Ingredients:
Aloe barbadensis (of fresh leaves), Citrus arantium amara Flower Water *Capric/Caprylic Triglycerides*Glyceryl Stearate**Cetearyl Alcohol*Cetearyl Glucosid *Arachidyl Alcohol*Behenyl Alcohol*Arachidyl Glucoside*Decyl Oleate, *Glycerin, Rosa moschata seed Oil, Ginkgo biloba Extract, Hyaluronic Acid, Caffein***Zinc Oxide, Tocopheryl Acetate (Vitamin E), Ascorbyl Palmitate (Vitamin C), Ascorbic Acid (Vitamin C)*Sodium Behenoyl Lactate*Benzoic Acid*Carrageenan, Xanthan Gum***Titanium Dioxide*Potassium Sorbate*Phytic Acid*Sodium Benzoate, Fragance from esential Oil, Farnesol*Benzyl Alcohol, Limonene, Linalool.* of plant origin ** fatty alcohols*** of natural origin
Caution:
Avoid direct contact with eyes, mucous membranes and open wounds. Keep out of the reach of children. Do not use in children under 3 years. Do not eat.
Click here for Legal Notice and our Terms and Conditions. With Ibizaloe there is no minimum order, but there are advantages when ordering from a certain amount onwards as you will not have to pay delivery fees. We divide as follows:
*Peninsula and Balearic Islands. SAD must be added for the Canary Islands, Ceuta and Melilla. ** Austria, Germany, Netherlands, Belgium, Greece, Poland, Bulgaria, Hungary, Portugal, Croatia, Ireland, Romania, Cyprus, Italy, Slovakia, Czech Republic, Latvia, Slovenia, Denmark, Lithuania, Spain, Estonia, Luxembourg, Sweden, Finland, Malta, UK and France. *** Other countries (that support this service), international SAD and additional taxes of the respective country, if any, must be added.
Orders will be shipped via our shipment manager, Correos. For more information about delivery fees please contact us at +34 659 186 285or send an e-mail to info@ibizaloe.com Our desire is to deliver orders as soon as possible. Being Correos the shipment manager, delivery times are estimated as follows(in business days)::
SPAIN 3-4 DAYS
EUROPE 6-7 DAYS
OTHER 10-12 DAYS
Please note that the delivery times are estimates and can vary depending on the accuracy of postal information and shipment volume of our operator.
Way to pay:
| | |
| --- | --- |
| Credit cart | VISA, MASTERCARD |
| PAYPAL | PAYPAL, VISA , MASTERCARD |
| BANK TRANSFER | BANK DETAILS: CENTROS TURÍSTICOS CULTURALES S.L. Financial Institution: Caja Mar Current Account (C.C.): 3058 45506027 2000 7741 IBAN: ES81 3058 4550 6027 2000 7741 BIC / SWIFT: CCRIES2AXXX |