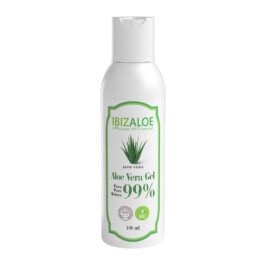 ALOE VERA GEL PURO 99% de hojas frescas 100ml
12,95€
Tamaño viaje
Gel Puro de Aloe Vera natural 99% de cultivo ecológico, para hidratar y calmar las pieles castigadas. Aporta suavidad y frescura, repara y regenera el tejido.
Email to a friend
Descripción
Modo de empleo:
Aplicar una pequeña cantidad sobre la zona a tratar y realizar un ligero masaje hasta su completa absorción.
Ingredientes:
*Aloe barbadensis Leaf Juice, Maltodextrin, Aqua, Glycerin **Xanthan Gum, Citric Acid, Carrageenan, Phytic Acid, Sodium Benzoate, Potassium Sorbate, Parfum * ingrediente procedente de la agricultura ecológica ** transformados a partir de ingredientes ecológicos
Precaución
Evitar el contacto con directo con los ojos, mucosas y heridas abiertas. Mantener fuera del alcance de los niños. No utilizar en niños menores de 3 años.

No ingerir.
Click here for Legal Notice and our Terms and Conditions. With Ibizaloe there is no minimum order, but there are advantages when ordering from a certain amount onwards as you will not have to pay delivery fees. We divide as follows:
*Peninsula and Balearic Islands. SAD must be added for the Canary Islands, Ceuta and Melilla. ** Austria, Germany, Netherlands, Belgium, Greece, Poland, Bulgaria, Hungary, Portugal, Croatia, Ireland, Romania, Cyprus, Italy, Slovakia, Czech Republic, Latvia, Slovenia, Denmark, Lithuania, Spain, Estonia, Luxembourg, Sweden, Finland, Malta, UK and France. *** Other countries (that support this service), international SAD and additional taxes of the respective country, if any, must be added.
Orders will be shipped via our shipment manager, Correos. For more information about delivery fees please contact us at +34 659 186 285or send an e-mail to info@ibizaloe.com Our desire is to deliver orders as soon as possible. Being Correos the shipment manager, delivery times are estimated as follows(in business days)::
SPAIN 3-4 DAYS
EUROPE 6-7 DAYS
OTHER 10-12 DAYS
Please note that the delivery times are estimates and can vary depending on the accuracy of postal information and shipment volume of our operator.
Way to pay:
| | |
| --- | --- |
| Credit cart | VISA, MASTERCARD |
| PAYPAL | PAYPAL, VISA , MASTERCARD |
| BANK TRANSFER | BANK DETAILS: CENTROS TURÍSTICOS CULTURALES S.L. Financial Institution: Caja Mar Current Account (C.C.): 3058 45506027 2000 7741 IBAN: ES81 3058 4550 6027 2000 7741 BIC / SWIFT: CCRIES2AXXX |