Aloe Barbadensis Miller, also known as Aloe Vera, offers numerous benefits to human well-being. Its immeasurable properties can be used in cosmetics and drinks production.
Do you know how to recognise the aloe plant?
Are you aware of all the benefits it can bring for your body?
Did you know you can make a fresh soap at home, using the Aloe Vera that grows in your garden?
If you answered yes to any of those questions, this article will provide you with information of your interest. Continue reading to find out more about the Aloe Vera plant and its uses.
There are around 400 different species of the aloe plant. However, we only use one of them for our cosmetics –Aloe Barbadensis Miller. This type of Aloe Vera is best known for its medical properties, both for topical use and internal consumption. Aloe Barbadensis Miller is the most commonly grown type of Aloe Vera on the Balearic Islands and in particular on Ibiza.
The characteristics of Aloe Vera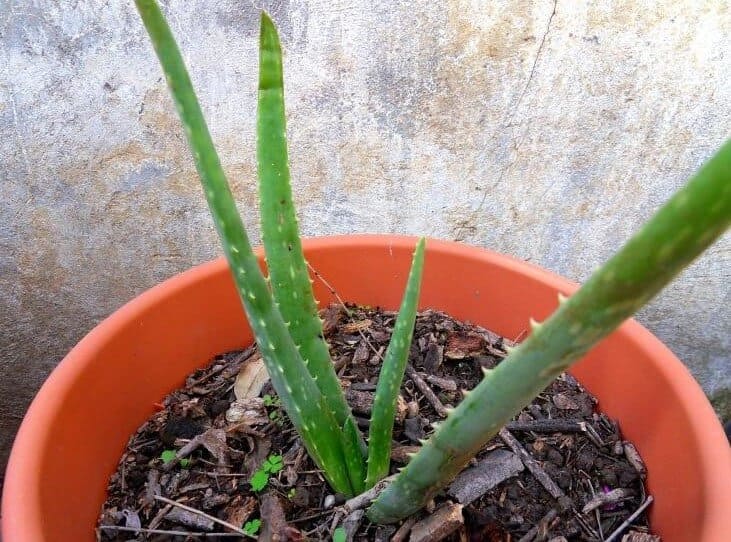 Aloe Vera is a stemless or very short-stemmed plant growing to 60–100 cm (24–39 in) tall, spreading by offsets.
Its leaves grow upwards and are thicker near the root. Aloe Vera edges have hard filaments that could be confused with the spines of a cactus.
The leavesare green, usually with whitish spots.
Aloe Vera plants are very resistant to external conditions and therefore easy to maintain.
The ideal temperature for Aloe Vera is between 16 to 26 degrees. During winter it is advised to move the plant indoor or grow it in a greenhouse.
Properties of Aloe Vera
Using Aloe Vera has multiple benefits. It heals various skin problems, whiten teeth and helps to relieve pain. It is used in treatments of psoriasis, acne, wrinkles, burns, insect bites and many other skin problems. Aloe Vera can be added to various beverages to alleviate problems such as gastritis and ulcers. It is also very effective in treating constipation. Aloe Vera gel is popular in conditions such as eczema, psoriasis and dermatitis. It revitalises, heals and cleanses the skin helping it to maintain the youthful look. The gel can be combined with other active ingredients that will enhance its benefits.
How to make a homemade Aloe Vera soap?
You will need:

100 grams of Aloe Vera
100 grams of caustic soda
750 millilitres of extra virgin olive oil
250 millilitres of water
Aloe Vera or other essential oil (rosehip, jasmine)
Precautions
To avoid any contact with caustic soda, wear rubber gloves, goggles, and extremely thick outerwear.
Label all equipment «for soap making use only». This is especially important for gear made out of wood because of its tendency to absorb the dangerous chemicals.
Always have a bottle of vinegar by your side. If you spill any caustic soda, pour vinegar over the mess to neutralize the chemical.
Homemade soap should be prepared in an open space.
Preparation
Cover your work area with newspaper. Put your gloves and other protective wear on. Boil water and pour into tall, heat-proof container, add caustic soda and stir well. Let the mixture cool for at least 50 minutes. Beat the aloe pulp in a separate, tall container. Add water and soda mixture to the pulp, stir well and wait for it to set. You can now add a few drops of your favourite essential oil (about a teaspoon). Pour the mixture into a silicone mould and cover with plastic wrap. After 24 hours, check your soap. If it's still warm or soft, allow it to sit another 12-24 hours. When it's cold and firm, turn it out onto a piece of parchment paper or baking rack. Allow soap to cure for 4 weeks or so. Be sure to turn it over once a week to expose all the sides to air.
The benefits of using aloe soap
Now that you have created a super fresh Aloe Vera soap, you are surely curious what are properties of it:
The Aloe Vera soap
has antioxidative, regenerative and anti-inflammatory properties;
contains vitamin E that prevents the ageing of cells;
reduces the visibility of stretch marks thanks to the virgin olive oil;
is highly recommended for skin suffering from acne, dermatitis or eczema;
accelerates healing and regeneration of the skin; soothes and pampers even the most delicate skins;
used daily will maintain the proper hydration of the skin.
https://ibizaloe.com/en/product/bio-aloe-soap/
Do you feel like making Aloe Vera soap is too much hustle for you, but you still want to enjoy its fantastic benefits?
Why don't you browse our natural and ecological soap range? Try our sensational soap variations with Ibizan rosemary and lavender. You already know their wonderful benefits for your skin.